Stephen Gent
Owner – McDade's Nursery
Stephen has 14 years of experience in horticulture as Publisher and Marketing Director for Nursery Management and Production, Greenhouse Management and Production and Garden Center magazine. An avid gardener with a lifelong passion for plants, he enjoys sharing his knowledge and experience with customers.
He has previous marketing experience having worked at Flying Tiger Line (purchased by Fedex), Standard Oil of Ohio, and AT&T.
Stephen participates in the local community by serving on the board at The Library at Cedar Creek Lake.
'I wasn't born in Texas, but I got here as fast as I could'

Shannon Killebrew
A nursery professional with over 41 years of horticultural experience, Shannon's knowledge of plant care and gardening is extensive. He's the 'go-to-person' for all your gardening needs and questions. Don't let the long hair scare you – Shannon is one of the friendliest persons you'll ever meet.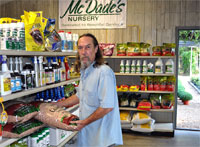 Kim Killebrew
A nursery profession with over 24 years of horticultural experience Kim can answer all your gardening questions. Tap into Kim's container gardening design skills and have her create the perfect container arrangement for you.
As you may suspect Kim and Shannon are related. They exchanged their vows at the nursery in the Japanese Gardens. There's no excuse for Shannon if he ever forgets his wedding anniversary.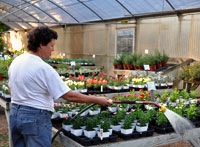 Tammy Boyd
With over 12 years working at McDade's Nursery Tammy has never a met a plant she didn't like or care for. Tammy makes sure all plants at the nursery are well maintained and in the best of health ready for sale.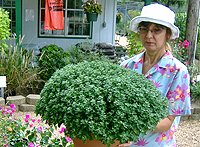 Jimmy Vinyard
Jimmy is the youngest member of the McDade's team responsible for plant care, customer service support and facilities maintenance. Jimmy is the guy who will flash you a winning smile as he loads your vehicle.