Borer, Bagworm, Tent Caterpillar and Leafminer Spray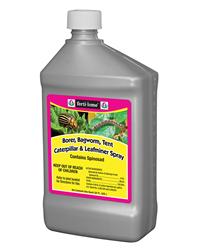 Use on Citrus, Fruits, Vegetables & Lawns, Ornamental Trees, Shrubs & Flowers.
Kills Leafminers, Borers, Leaf Rollers, Thrips, Worms (Caterpillars), Colorado Potato Beetle and other listed insects on Vegetables, Fruit and Citrus.
Broad Spectrum Insecticide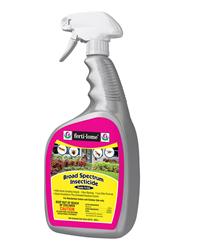 Mode of Action: Contact Insecticide. Provides extended residual control for up to 4 months on indoor pests.
For spot treatment Indoors & Outdoors.
Insects Controlled: Ants, Centipedes, Crickets, Earwigs, Fleas, Flies, Mosquitoes, Pillbugs, Roaches, Scorpions, Spiders, Ticks and many others.
Formulation: RTU. Water-Based. Non-Staining. Low Odor.
Come and Get It Fire Ant Killer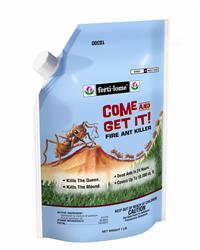 Kills the Queen & the Mound. No Mixing. Dead Ants in 24 Hours. No Watering Necessary.

Use on Lawns & Other Turf Areas Such as Recreational Areas, Rangeland, Permanent Pastures, Ornamentals, Landscapes, Greenhouses & Most Crops including, but not limited to tree nuts, citrus, stone fruit, tree fruits soybeans and vegetables.

Contains a bait that attracts foraging fire ants and is redily taken back into the nest as food for the colony. Fire ants that consume the bait will appear sick and lethargic within 12-24 hours. Dead ants will frequently be seen near mounds 24-36 hours after application.

Contains Spinosad. No Odor. Easy to Use.
Liquid Carbaryl Garden Spray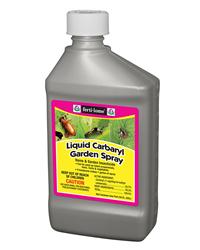 Use on Fruit, Citrus & Shade Trees & Lawns, Ornamentals, Shrubs, Flowers & Vegetables
Use to control Ants, Apple Aphid, Armyworm, Azalea Leafminer, Bagworms, Birch Leafminer, Cutworms, Fuller Rose Beetle, Grasshoppers, Japanese Beetles, Aphids, Elm Leaf Beetle, Cicads (17-year Locust), Blister Beetles, Leafhoppers, Mealybugs, Rose Aphid, Rose Chafer Scale Insects, Tent Caterpillar, Webworms and many other chewing insects.
Easy to Use. Can be Used as Often as Once a Week.
Tree and Shrub Systemic Insect Drench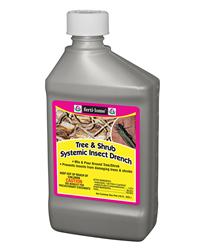 Controls Leaf Beetles (including Elm Leaf Beetles and Viburnum Leaf Beetles), Vine Weevils Larvae (including Black Vine Weevils), Leafhoppers (including Glassy-Winged Sharpshooter), Roundheaded Borers (including Asian Longhorned Beetle and Eucalyptus Longhorned Borer), Flatheaded (including Bronze Birch Alder, and Emerald Ash Borers), Leafminers, Mealybugs, Pine Tip Moth larvae, Japanese Beetles, Adult, Psyllids, Lacebugs Royal Palm Bugs, Sawfly Larvae, Scales (includes Armored Scale [Suppression] and Soft Scale, Thrips, and Whiteflies.
Contains Imidacloprid. Provides 12-month Systemic Protection.
Triple Action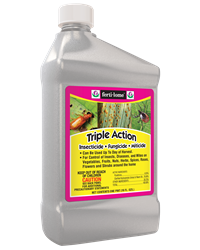 New Formulation to be used on Fruits, Herbs, Nuts, Spices, Vegetables & Roses, Flowers & Shrubs.
Provides quick and more complete control. Acts as an "exciter" to flush insect pests out of hiding and into direct contact with spray residues.
Controls: Aphids, Spider Mites, Scale, Mealybugs, Beetles, Loopers, Leaf Miners, Leaf Rollers, Armyworms, Webworms, Weevils, Tent Caterpillars, Whiteflies and many more listed.
An effective fungicide for the prevention and control of various fungal diseases including Powdery Mildew, Black Spot, Brown Spot, Dollar Spot, Anthracnose, Rust, Leaf Spot and many others listed on label.
Contains Pyrethrins.
May be Applied up to Day of Harvest.
Apply Every 14 Days to Prevent Disease.
F-Stop Granular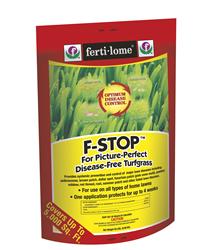 A granular product containing Eagle® fungicide that provides a systemic protector and curative fungicide.
Controls turfgrass diseases in established lawns and in ornamental turfs.
Use on lawns, landscapes, golf course greens, tees and fairways.
Turf Diseases Controlled: Anthracnose, Red Thread, Septoria Leaf Spot, Brown Patch, Copper Spot, Dollar Spot, Fusarium Blight, Leaf Spot, Melting Out, Crown Rot, Leaf Smuts, Necrotic Ring Spot, Powdery Mildew, Rust, Summer Patch, Take-All Patch and Zoysia Large Patch.
F-Stop Liquid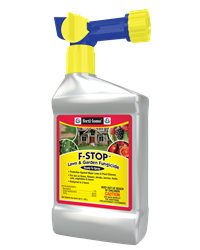 Formulation: 1% Myclobutanil
Used to prevent and control damaging diseases.
May be used on: Roses, flowers, ornamental shrubs, berries, fruit, nuts, vegetables and lawns.
Diseases controlled: Powdery Mildew, Black Spot, Rust, Blights, Scab, Brown Rot, Leaf Spot, Brown Patch, Dollar Spot, Red Thread, Summer Patch, Melting Out and others.
Weed-Out Lawn Weed Killer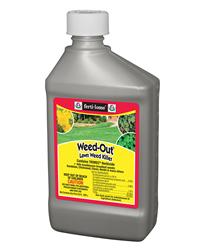 Controls over 200 broadleaf weeds including Dandelion, Chickweed, Clover, Spurge, Wild Onion, Dollar Weed, Ground Ivy and many others listed.
Application Rate: Temperature should be 65°F to 85°F. Concentrate: Mix 2 oz. (4 tablespoons) with 1 gallon of water. 1 pint covers 8,000 sq. ft. in St. Augustine and 6,000 sq. ft. in Bermuda, Fescue and Bluegrass.
Azalea, Camellia, Rhododendron Food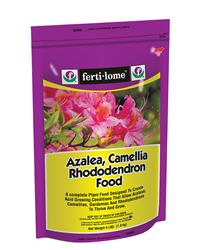 Analysis: 9-15-13 + Trace Elements.
Contains a balanced plant food plus vital trace elements to create an acid growing condition that allows azaleas, camellias and gardenias to thrive and grow.
Application Rate: Apply at the rate of 1/4 cup for each foot of height. DO NOT fertilize Azaleas until they have finished blooming.
Bougainvillea & Flowering Vine Food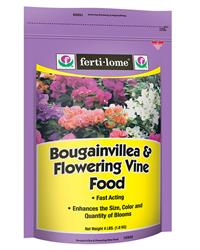 Enhances the Size, Color and Quantity of Blooms.
For Use in Landscaped Areas and Container Grown Plants.
Fish Emulsion Fertilizer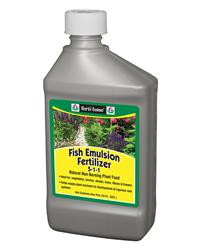 Derived from concentrated fish solubles that supply the natural release of essential nutrients for the development of green foliage, vigorous root systems and solid plant structure.
For use on potted and house plants, fruits, vegetables, ornamentals and shade trees.
Shake well before applying 2 tablespoons per gallon monthly during the growing and blooming season.
Fruit, Citrus and Pecan Tree Food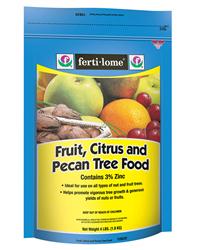 Contains a special combination of plant nutrients beneficial to tree growth and productivity, plus a generous supply of zinc to control rosette in pecan trees. It may be used on all kinds of nut, citrus and fruit trees.
Feed trees twice a year at recommended rates listed on label around the drip line and water in thoroughly.
Tomato and Vegetable Food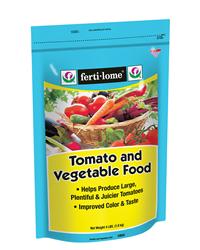 Provides essential nutrients for better growth, better flavor and bigger harvest by supplying plant food plus secondary nutrients to produce vigorous Tomato and vegetable plants.
Tree and Shrub Food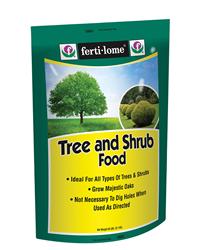 A scientifically formulated tree food that contains penetrating action, which moves the food directly to the feeder roots when applied around the tree or shrub drip line, eliminating the need to dig holes. Great for all types of trees and shrubs including shade trees, nut trees, Evergreens, citrus, tropical and flowering trees.
Feed trees and shrubs twice a year.
Yield Booster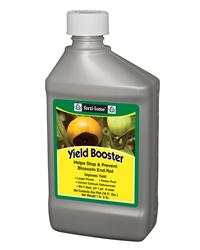 Helps stop blossom end rot on Tomatoes and setting of fruit and correcting calcium deficiencies.

Blossom end rot can be recognized by the dark grey/ black sunken area on the blossom end (bottom of Tomatoes). Blossom end rot can be small or can cover almost half of the fruit and will decrease Tomato yield.

Application Rate: Mix 2 tablespoons with 1 gallon of water to stop blossom end rot. Apply as a thorough cover spray to foliage and fruit. Use at weekly intervals for at least 3 sprayings. To help set fruit: Mix 1 tablespoon with 1 gallon of water during bloom to help set fruit and increase yield.
St. Augustine Weed & Feed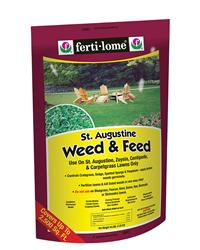 Apply in early spring to obtain control of pre-emerged and post-emerged weeds in Centipede, Zoysia and St. Augustine lawns.
For best results, lawn should be moist prior to application. After application, water in well.
Do not use on Bermuda Grass or any type of Northern grasses.
MoleGo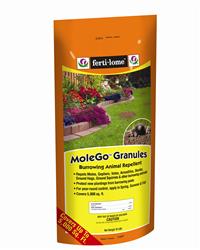 Can be used in other areas such as ornamental turf, golf courses and athletic fields.
Repels Moles, Gophers, Armadillos, Ground Hogs & other burrowing animals from your lawn.
Apply immediately after the presence of Moles are detected or in early spring, mid-summer and early fall.
Formulation: 10% Castor Oil (USP)
Brush Killer Stump Killer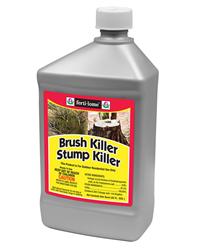 Formulation: Triclopyr.
Controls unwanted woody plants, vines, Poison Ivy and broadleaf weeds around homes, cabins, buildings, trails, fences, walkways and other non-crop areas.
Application Rates Foliage spray: 8-16 tablespoons per gallon to 500 sq. ft. Stump Treatment: Apply undiluted product with a paint brush to completely cover the fresh cut surface. Vine Control: Cut the vine first and treat as directed for stump treatment.