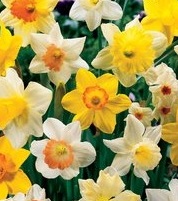 If you are looking to have bright vibrant colors in your home for the holidays or in your landscape during winter, bulbs are an excellent choice.
McDade's stocks high quality daffodils, tulips, paperwhites, amaryllis and hyacinths imported directly from Holland. Bulbs, especially daffodils, look spectacular in the landscape when planted in clumps or groups rather than standing alone.
According to the Dallas Arboretum, single late tulips grow best in North Texas. They should know, they plant over 400,000 each year! Recommendations include Menton, Blushing Girl and Maureen.