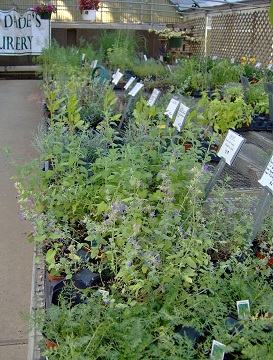 An herb is any plant used whole or in part as an ingredient for health, flavor, or fragrance. Herbs can be used to make teas, perk up cooked foods such as meats, vegetables, sauces, and soups, or to add flavor to vinegars, butters, dips, or mustards.
Herbs as a group are relatively easy to grow. Begin your herb garden with the herbs you enjoy using the most. For example, choose basil, oregano, and fennel for Italian cooking, lavender and lemon verbena for making potpourri, or chamomile, peppermint, and blue balsam mint if you plan to make your own teas.
Our commercial herb grower produces a high quality selection of the more common varieties but also some unusual one. Here's a list of over 100 herbs that are available at McDade's Nursery. If we don't have it in stock we can order it provided it's in season.
Arugula
Basil African Blue
Basil Cinnamon
Basil Dark Opal
Basil Genovese
Basil Holy
Basil Lemon
Basil Lettuce Leaf
Basil Minette
Basil Purple Ruffles
Basil Spicy Globe
Basil Sweet
Basil Thai Siam Queen
Borage
Caraway
Catmint
Catnip
Celery EZ Leaf
Chamomile German
Chervil
Chives Garlic
Chives Onion
Cilantro
Cilantro Vietnamese
Curry
Dill
Epazote
Fennel Bronze
Fennel Sweet
Feverfew
Germander Dwarf
Horehound
Lavender English Hidcote
Lavender English Munstead
Lavender French
Lemon Grass
Lemon Balm
Lemon Verbena
Mexican Mint Marigold
Mint Apple
Mint Blue Balsam
Mint Candy
Mint Chocolate
Mint Corsican
Mint Curly
Mint Doublemint
Mint Emerald and Gold
Mint English
Mint Lemon
Mint Lime
Mint Mountain
Mint Orange
Mint Pear
Mint Peppermint
Mint Pineapple
Mint Red Stem Applemint
Mint Spearmint
Mint Wintergreen
Mint Yerba Buena
Oregano Bible
Oregano Cuban Green
Oregano Cuban Variegated
Oregano Golden
Oregano Greek
Oregano Italian
Oregano Mexican
Oregano Regular
Parsley Curled
Parsley Italian
Pennyroyal
Rosemary Arp
Rosemary BBQ
Rosemary Upright
Rosemary Trailing
Sage Bergarten
Sage Golden
Sage Green Pineapple
Sage Purple
Sage Regular
Sage Tri-Color
Sage Yellow Pineapple
Salad Burnet
Scented Geranium Citronella
Stevia
Summer Savory
Sweet Aztec Herb
Sweet Marjoram
Tansy
Tarragon French
Thyme Doone Valley
Thyme Dutch Tea
Thyme Elfin
Thyme English
Thyme Lavender
Thyme Lemon
Thyme Magic Carpet
Thyme Mother of
Thyme Odenas Kitchen
Thyme Pink Lady
Thyme Regular
Thyme Silver Queen
Thyme Tangerine
Watercress